Linking up today with
Lady Okie
!!! I just love her blog and her genius link up idea : )
Every month runners will be linking up to write about a new running topic.
The link up this month is: Your Running Story in 250 words. I think I nailed it in 133. Call me an over achiever.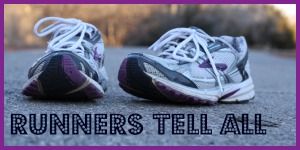 I started running when I was a figure skater in high school. My programs needed to get faster so I needed to too. I wasn't running seriously though, just speed stuff.
Last spring, I ran in my first race on Saint Patrick's Day. I knew I could run 4 miles but I wasn't sure how fast or if I would like racing so I signed up to see what would happen &&& also to drink beer.
The running bug bit me hard and now I am four half marathons in and my fifth is coming up.
Running makes me appreciate my body and everything it can do for me. No other sport has really done that. It has changed how I think, how I cope, and how I see the world around me.
If you want to read my whole running story, you can read it
here.
************************************************************************
AHHH I can't wait to be a big nerd and read everyone else's post about how they found running. If you are a runner, you know how fun it is to ask people how they started. I like details & to be all creepy about it so this is the perfect link up for me.
If you are a runner or just starting to think about running, visit
Lady Okie's blog
and check out all the awesome bloggers who run too.
Happy Friday!!!!!!!!!